Elizabeth Stewart, MD
Specialties: Internal Medicine
Mt. San Rafael Hospital Clinic
400 Benedicta Avenue
Trinidad, CO 81082

Office: 719-846-2206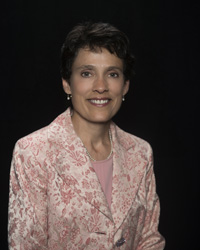 Dr. Stewart joined the Mt. San Rafael Hospital team in 2016, and serves as an internist in our Rural Health Clinic.
Education
Dr. Stewart received her bachelor's degree in biology from Northeastern Illinois University in Chicago. She received her medical degree from Chicago's Rush Medical College, where she later served as Doctor of Medicine; and completed her residency in primary care internal medicine at Cook County Hospital, also in Chicago.
Dr. Stewart is board certified in internal medicine.
More/Other Information
Dr. Stewart's goal is to empower her patients to develop and maintain healthy lifestyle choices in order to enjoy the best health possible. She believes her job is to take care of those who are ill with love and compassion, all for the glory of God.
Dr. Stewart enjoys gardening, raising large dog breeds, raising birds of all types (chickens, pigeons, pheasants, peacocks, geese), and enjoying the beautiful Colorado mountains.