Andrea Doeden, MD
Specialties: Gynecology
Mt. San Rafael Hospital Professional Complex
Women's Clinic
328 Bonaventure Avenue
Trinidad, CO 81082

Office: 719-845-3190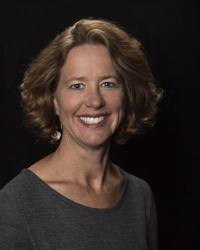 Dr. Doeden joined the Mt. San Rafael Hospital team in 2011, and serves as a gynecologist in the Mt. San Rafael Hospital Women's Clinic. During her tenure at Mt. San Rafael Hospital she has also served as Chief of Surgery and on numerous committees.
Education
Dr. Doeden received her bachelor's degree in biology from Luther College located in Decorah, Iowa. She received her medical degree from the University of Minnesota School of Medicine located in Duluth and Minneapolis. Dr. Doeden completed her residency in obstetrics and gynecology at the University of Oklahoma Health Sciences Center located in Oklahoma City.
Dr. Doeden is board certified in both obstetrics and gynecology.
More/Other Information
Dr. Doeden chose OB-GYN as a specialty because she loves the gift, chance, and ability to care for women throughout their life as they grow from young women to seniors. She enjoys all the stages of life and has been blessed to accompany women as their medical needs change as a result of going through different life stage events. This specialty is the best of both worlds for Dr. Doeden because it is a blend of primary care for women and a surgical specialty. She feels early detection is critical to the best medical care, that getting care should not be reserved for the wealthy, and all people should be treated with dignity and respect.
Dr. Doeden strives to treat all patients with the kindness and compassion they deserve. And, part of her job is to help navigate her patient's treatment and support them emotionally as they experience very stressful times in their lives. Dr. Doeden loves practicing in Trinidad for many reasons; she loves living in Trinidad and the people here. She feels the hospital is supportive of her and her patients and she appreciates the confidence the administration has in her and her skills. She believes the staff is wonderful; everyone from the operating room crew to the patient care unit staff take such good care of her patients that it is a joy to practice here. She thinks the hospital is a gem, the staff is passionate about caring for patients and everyone from housekeeping to the cafeteria staff are kind and generous to each other and our guests.
Dr. Doeden enjoys being outdoors gardening, horseback riding, hiking, and skiing. She also loves to read and bake. Additionally, she loves to travel and thinks the world is an amazing place; she enjoys meeting new people and experiencing their landscapes. She enjoys spending time with her husband and their large extended family including nine children and their grandchildren.